News from the
UConn Health Center
Dr. Thomas Gworek Honored for South Park Inn Homeless Shelter Efforts
Posted May 2013


The student coordinators of the South Park Inn Homeless Shelter Dental Program, along with the faculty advisors Dr. Michael Goupil and Dr. Sarita Arteaga, recently presented Dr. Thomas Gworek with a plaque to recognize his efforts at South Park.



"The Singin' Dentist" to Perform at School of Medicine Reunion on June 1
Posted May 2013

By day, Stephen D. Lipman, DMD '84 serves patients of all ages in Windsor and Hartford through his practice at Family Dentistry of Windsor, which he founded 25 years ago. By night, Dr. Lipman performs with a jazz band as "The Singin' Dentist". Dr. Lipman has recorded two CDs -- There's a Song in my Heart, a collection of Frank Sinatra covers, and Ridin' the Beat, featuring his favorites from the Great American Songbook. Dr. Lipman will bring his talents to the School of Medicine Celebration/Reunion on June 1.





New Career Resource Available to School of Dental Medicine Alumni and Students
Posted February 5, 2013

DentReps is a hiring and recruitment vehicle that connects thousands of dental practices and organizations with talented associates and personnel for all employment, transition and hiring needs. DentReps also offers job seekers an exclusive community committed to connecting these talented candidates with career opportunities.


Reunion to Feature CE Course on Oral Care for the Cancer Patient
Posted: July 20, 2012
A continuing education course will be offered during the School of Dental Medicine Celebration/Reunion on October 6. "Oral Management of the Cancer Patient: Key Role of the Community Dentist" will be presented by Douglas E. Peterson, DMD, PhD, FDS RCSEd, professor of oral medicine and co-chair of the Program in Head & Neck Cancer and Oral Oncology at the Carole and Ray Neag Comprehensive Cancer Center at the UConn Health Center.

School Holds Student Clinician Ceremony and Presents Resident Award
Posted: July 20, 2012

The University of Connecticut School of Medicine held its first Student Clinician's Ceremony on July 6. Students, their families, faculty and alumni celebrated the students' transition from basic science studies to clinical work. The students marked the occasion by reciting the Oath of Hippocrates, and underscored the challenges and imperatives to providing humanistic care to patients while maintaining high standards of skill performance.

School of Medicine Alum Discusses Fertility with the Pope

Posted: June 4, 2012

In late February 2012, University of Connecticut School of Medicine alumnus Anthony A. Luciano, MD ('73), professor of obstetrics and gynecology at the UConn Health Center and Director of the Center for Fertility and Women's Health in New Britain, Conn., had the extraordinary experience of traveling to the Vatican, meeting Pope Benedict XVI, and discussing reproductive issues with religious leaders from around the world.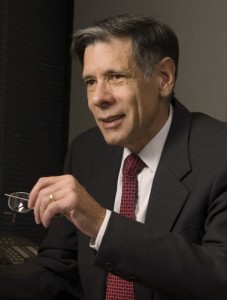 New Health Center Executive Vice President, Medical Dean Arrives
Posted: May 1, 2012

Dr. Frank Torti assumes the dual role of executive vice president for health affairs and medical school dean, and members of the UConn Health Center community will have two early chances to meet their new leader.


40th Anniversary Celebration!
This spring marks the 40th anniversary of the first graduating class — the class of 1972 — of the University of Connecticut's School of Medicine and School of Dental Medicine.

School of Dental Medicine Alum to Receive Honorary Doctorate
The Office of Alumni Relations is proud to congratulate Dr. Richard Valachovic as the recipient of an honorary doctorate from the University of Connecticut School of Dental Medicine to be awarded at this year's commencement ceremonies.


Dental Lab Offers High-Tech Teaching Tools
Posted: February 21, 2012

The Grasso Dental Simulation Lab has become an integral component of the UConn School of Dental Medicine. It's equipped with the high-tech teaching tools that are necessary to educate tomorrow's dentists.


Leading Through Science and Service: The School of Dental Medicine
Posted: January 20, 2012

Students and faculty at the UConn School of Dental Medicine have many reasons to smile these days. National recognition, the delivery of affordable dental care to the community, innovative programs, strong grant funding and leading-edge research are just a few of them.


Final Agreement Reached Between Jackson Lab and the State
Posted: January 9, 2012

A final agreement has been reached to bring a global leader in genetics research to Connecticut. During a news conference at the Health Center, Gov. Dannel P. Malloy announced that Jackson Laboratory (JAX) and the state have garnered the necessary approvals and held a ceremonial bill signing to commemorate the event.


Congratulations to the UConn Health Center's Top Doctors
Posted: January 9, 2012

In the early 1990s, Best Doctors began producing books identifying the top physicians in a number of different fields, and also invited print media organizations to publish listings for their geographic areas as a public service. Hartford Magazine began publishing the company's list of top-ranked physicians for Greater Hartford in 2004, and has been doing so each year since.


Shafer Student Center Opens
The multi-functional space is used by medical, dental and graduate students and is twice the size of the old student lounge it replaces.


School of Medicine Students Exceptional in Clinical Skills
With 100 percent passing and scores well above the mean in all areas, the Clinical Skills board exams prove UConn students are ahead of their peers.


Dental School Unveils new CONNcept in Clinical Education
A longtime leader in dental education, the School of Dental Medicine revolutionizes clinical dental education again.


Grand Re-opening for Health Center Co-op
The bookstore celebrates its relocation to larger, newly renovated space.


Community Outreach: Med Students at Senior Fair
Blood pressure screenings and blood glucose tests were only some of the care administered by students across Connecticut.


Bioscience Connecticut Infuses Positive Change for Schools of Medicine, Dental Medicine
Bioscience Connecticut is an important component of Connecticut Governor Dannel P. Malloy's plan to jumpstart Connecticut's economy. The plan will have positive effects for both the School of Medicine and the School of Dental Medicine. We invite you to peruse the Bioscience Connecticut website to learn more about the initiative.


Seeing the Big Picture While Keeping Track of the Details
Dr. Steven Lepowsky, senior associate dean for education and patient care at the School of Dental Medicine, continues to positively affect the academic and clinical operations of the school.